Calendar
---
Utah Central Association of REALTORS® easy access calendar for classes and events
Supra Key
---
New Member
---
Become a new member of Utah Central Association of REALTORS®
Advocacy
---
The REALTORS® Political Action Committee (RPAC)
The Utah Central Association of REALTORS®
exists to provide leading edge programs and services that enable our membership to deliver the highest quality of professional service to their clients. We will be the leading advocate for the real estate industry and property rights issues in Utah, Carbon, Daggett, Duchesne, Emery, Garfield, Grand, Juab, Piute, San Juan, Sevier, Uintah, and Wayne counties.
---
RPAC Cinco de Mayo Party – May 4
All-you-can-eat street tacos? Chips & salsa, drinks and dessert? Yes please! Come and join us in the UCAR office on Friday, May 4th, for our annual RPAC Cinco de Mayo party! Cost is $20, and all proceeds go to RPAC! Call UCAR today or go online to register!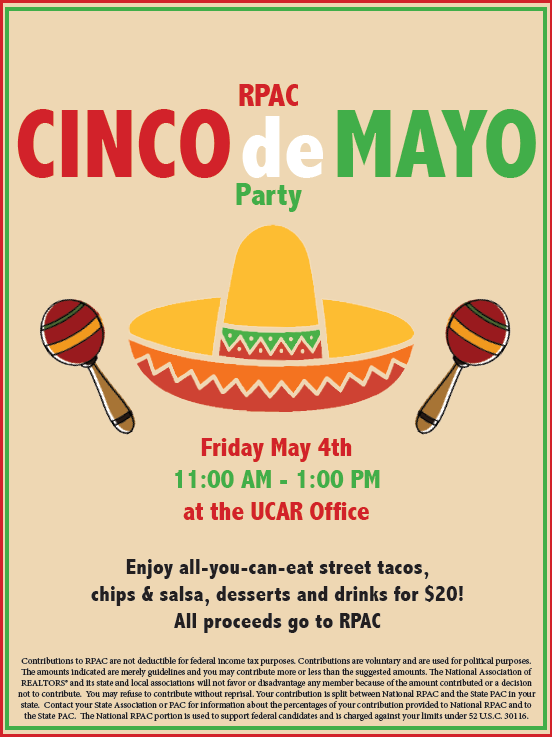 ---
Upcoming Classes & Events
---
Monday, April 16, 2018
---
Facebook Marketing & Advertising Setup & Best Practices (2 CE)
10:00 – 11:00 AM | Mike Anderson

CORE: Code of Ethics (3 CE)
1:00 – 4:00 PM | Larry Miller
Tuesday, April 17, 2018
---
Office opens at 9AM

Office closed from
11:00 AM – 3:00 PM
for Staff Training
Wednesday, April 18, 2018
---
CORE: Meth (1 CE)
9:00 – 10:00 AM | Jared Fenn

Septic Tanks & Wells (1 CE)
10:15 – 11:15 AM | Jared Fenn

CORE: Marijuana Grow Houses (1 CE)
11:30 AM – 12:30 PM | Jared Fenn
Thursday, April 19, 2018
---
North and South County Tour

CORE: So, Really, What Could Go Wrong? (3 CE) (REPC)
9:00 AM – 12:00 PM | Randy Benoit
Monday, April 23, 2018
---
CORE: Anti-Trust Laws & the Real Estate Agent (2 CE)
9:00 – 11:00 AM | Tom Jacobson
Tuesday, April 24, 2018
---
Office opens at 9AM
CORE: Code of Ethics (3 CE)
1:00 – 4:00 PM | Dallas Turley
Wednesday, April 25, 2018
---
CORE: Everything Agents Need to Know About Lending (2 CE)
10:00 AM- 12:00 PM | James Roberts
Thursday, April 26, 2018
---
North and South County Tour

CORE: Property Management Systems for Realtors (3 CE) (REPC)
9:00 AM – 12:00 PM | Paul Smith
Friday, April 27, 2018
---
Central County Tour

CORE: Code of Ethics (3 CE)
9:00 AM – 12:00 PM | Mike Morgan
---
RPAC Cinco de Mayo Party – May 4