Calendar
---
Utah Central Association of REALTORS® easy access calendar for classes and events
Supra Key
---
New Member
---
Become a new member of Utah Central Association of REALTORS®
Advocacy
---
The REALTORS® Political Action Committee (RPAC)
The Utah Central Association of REALTORS®
exists to provide leading edge programs and services that enable our membership to deliver the highest quality of professional service to their clients. We will be the leading advocate for the real estate industry and property rights issues in Utah, Carbon, Daggett, Duchesne, Emery, Garfield, Grand, Juab, Piute, San Juan, Sevier, Uintah, and Wayne counties.
---
2018 Utah Valley Home and Garden Show E-Tickets
This year's Utah Valley Home and Garden Show is coming up! UCAR members can use the free e-ticket below to attend, or pick up free tickets at the UCAR office beginning Tuesday, January 16th. For additional event details, see the ticket below.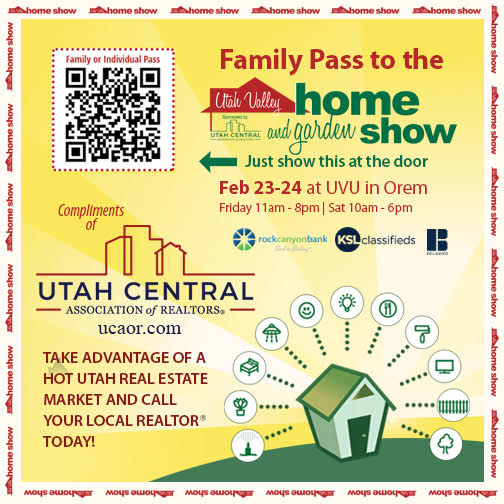 ---
Upcoming Classes & Events
---
Monday, January 15, 2018
---
Martin Luther King Jr.
Day
UCAR Office closed
Tuesday, January 16, 2018
---
Office opens at 9AM
CORE: Realities of Meth Contamination (2 CE)
10:00 AM – 12:00 PM | Ann Atkin

CORE: New 2018 REPC – How to Stay out of Jail (3 CE)
1:00 – 4:00 PM | Tom Morgan
Wednesday, January 17, 2018
---
CORE: Radon (1 CE)
9:00 – 10:00 AM | Jared Fenn

Pre-Listing Inspection (1 CE)
10:15 – 11:15 AM | Jared Fenn

CORE: Carbon Monoxide (1 CE)

11:30 AM – 12:30 PM | Jared Fenn
Thursday, January 18, 2018
---
North and South County Tour
Friday, January 19, 2018
---
Central County Tour
Luxury Home Tour
Tuesday, January 23, 2018
---
Office opens at 9AM
CORE: Legal Court Decisions Every Real Estate Agent Should Know
(3 CE)
9:00 AM – 12:00 PM | Kreg Wagner
Wednesday, January 24, 2018
---
Thursday, January 25, 2017
---
North and South County Tour

Managing Online Transactions
(3 CE) Presented by Dotloop
1:00 – 4:00 PM | Jodi Chambers